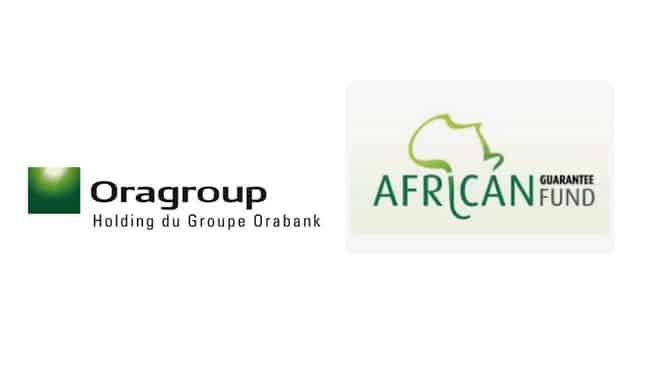 Lome, le 16 décembre 2022 – Le groupe African Guarantee Fund (AGF), à travers sa filiale AGF West Africa, et le groupe Orabank ont ​​conclu un agreement de garantie de portefeuille d'un montant total de 60 milliards FCFA (100 million USD) , visant à augmenter les capacités d'intervention du groupe Orabank en faveur des PME à travers ses filiales en Afrique de l'Ouest. L'accord de partenariat a été signé par M. Jules NGANKAM, Directeur Général du groupe African Guarantee Fund et M. Ferdinand NGON KEMOUM, Administrateur Directeur Général d'Oragroup, en présence de l'ensemble du Top Management du groupe AGF et du groupe Orabank.
The strengthening of the partnership between the two institutions will allow the Orabank group to play a major role in the development of the economies where it operates, providing a solution to the thorny problem of access to finance for PME-PMI. This partnership will benefit from the support of the Initiative pour favorer l'accès des femmes au financement en Afrique – AFAWA de la BAD, et permettre danc d'accordione le financement de l'entrepreneuriat féminin de la région. La garantie couvrira egalement les PME éligibles au financement vert.
« The African Guarantee Fund group is resolutely engaged alongside its financial partners to promote economic development, increase job creation and reduce poverty in Africa by providing guarantee solutions and support for capacity building, specifically targeted à sutenir les PME.
The Orabank group is a premier plan actor in the financing of economies in Africa due to its geographical presence, its focus on PMEs and its financial solidity. Our partnership with the Orabank group will allow us to play our major role in promoting African SMEs. » a declared M. Jules NGANKAM, Directeur Général du groupe African Guarantee Fund. Pour sa part, M. Ferdinand NGON KEMOUM, Administrateur Directeur Général d'Oragroup, s'est félicité de ce nouveau partnership avec le groupe African Guarantee Fund, qui est un symbole fort des synergies possibles entre les groupes panafricains qui partagent une approche de développement Durable and responsible. Cette garantie de portefeuille va reinforces the capacity of the Orabank group to finance PMEs with innovative and adapted solutions to risk management and their development cycle.
De plus cette garantie de portefeuille est en totale adéquation avec notre plan stratégique d'accompanier efficaciously les PMEs dans tous les compartimenters de leur ecosystém fort de notre panafricaine vision de participer au développement économique et social du sector privé dans nos douze pays de présence » Cet accord intervient à la suite de trois précedes conventions signées entre les deux établissements financiers depuis 2015 y compris une garantie de portefeuille et deux garanties de levée de fonds qui ont permis au groupe Orabank de financer des miliers de PME dans ses pays d'opération, de To achieve solid financial performances, and to contribute sustainably to the growth of economies where the group operates.
---
À propos de Groupe African Guarantee Fund
The African Guarantee Fund (AGF) is a specialized guarantee fund whose mandate is to facilitate access to finance for small and medium enterprises (PME) to allow them to fully play their role as drivers of economic growth in Africa. . Pour y parvenir, AGF offers partial credit guarantees and capacity development assistance to its financial institutions partners. À ce jour, AGF has issued guarantees for an amount of around 1.8 billion dollars that have allowed it to unblock more than 3 billion dollars in finance in favor of SMEs, through 200 financial partner institutions in 40 countries. africans.
En tant qu'institution qualifique pour le « 2X Challenge », AGF s'engage à sutenir l'entreprenariat féminin à travers l'initiative « Affirmative Finance Action for Women in Africa – AFAWA » de la BAD, qui vise à débloquer jusqu'à 5 milliards de financement pour les entreprises detenées ou dirigées par des femmes d'ici 2026. AGF favorise également la croissance sustainable grâce à sa facilité de garantie verte, destinée à accreitaire l'accès au financement pour les PME qui investissent dans une économie axée sur le climat et la croissance verte.
The African Guarantee Fund was created in 2011 by the Government of Denmark through the Danish Agency for International Development (DANIDA), the Government of Spain represented by the Agency for International Cooperation and Development (AECID) and la Banque africaine de développement (BAD). Les autres shareholders are l'Agence française de développement (AFD), le Fonds nordique de développement (NDF), le Fonds d'investissement pour les pays en développement (IFU), la Banque de développement KfW, Proparco et la Banque Ouest Africaine de Développement. AGF is also supported by Global Affaires Canada et West Africa Trade & Investment Hub de l'USAID AGF is noté AA- par l'agence Fitch Ratings. For more information, visit www.agf.africa.
---
À propos du groupe Orabank
Le groupe Orabank est présent dans 12 countries d'Afrique de l'Ouest et du Center (Bénin, Burkina Faso, Côte d'Ivoire, Gabon, Guinée Conakry, Guinée Bissau, Mali, Mauritania, Niger, Sénégal, Tchad et Togo) et dans quatre zones monétaires (UEMOA, CEMAC, Guinée Conakry et Mauritania). With 188 agences bancaires et points de vente, une société de gestion et d'intermédiation (SGI) et 2 349 collaborators, le groupe Orabank offers à plus de 770 000 clients (grandes entreprises nationales et internationales, PME et particuliers) a large range of produits et services bancaires et financiers selon des principes de proximité et de réactivité.
En visant l'inclusion financier par le deployment de solutions innovantes, le groupe Orabank se concentre aussi sur des segments de la population à revenus modestes. Cet engagement se traduit par sa politique RSE, partie intégrante de sa strategy et priority de ses organes de direction, axée sur la transition énergétique, la gestion des risques environnementaux et sociaux, le bien-être du public et de ses collaborators. Pour plus d'informations, rendez-vous sur https://www.orabank.net/fr https://reporting.orabank.net LinkedIn, Twitter, Facebook, Instagram, et YouTube.
Also explore KEAZ, la platforme numérique du groupe Orabank